Manage Images
The "Manage Images" tool of PDFCool Studio allows the user to modify and replace images in PDF documents. With this tool, the user can deal with multiple selected images in batches.
1. Open "Manage Images" dialog
From the top menu bar, go to "Convert > Manage Images";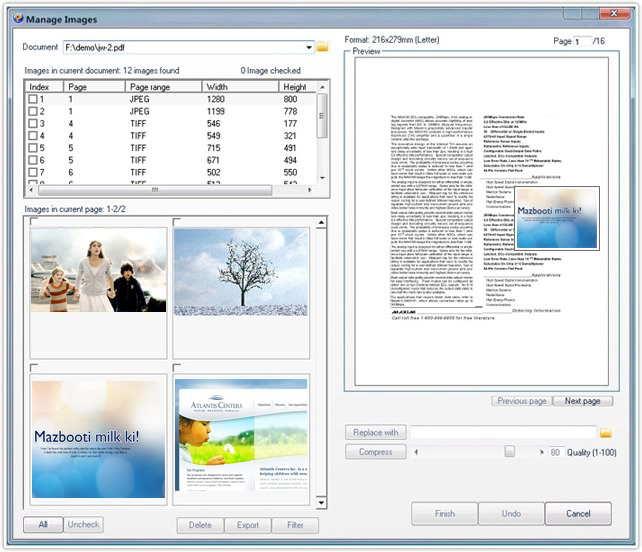 2. Choose a PDF document needed to be dealt with
Click on the dropdown list of Document, choose the a PDF document you want to deal with from the PDF documents opened in the program, or add a PDF document by click on the

button;
3. Choose the images needed to be dealt with from the PDF document
Select images needed to be dealt with in the image list box of current document, or check the images in "Images in current page" box;

Note:
Click on the Delete button, you can delete the selected images from the document;
Click on the Export button, you can export the selected images to local files.
4. Choose which kind of operations to do with the selected images
Replace images: Click on the

button to choose an image, then click "Replace with" button to replace the selected images;
Compress images: Drag the slider to set the quality parameter, and then click "Compress" button to compress the selected images;

Apply image filters -- Click "Filter" button to open the "Image Filter" dialog. Drag the relevant sliders of Colorize, Color Balance and Contrast and Brightness to set the imagesĄŻ filter effects.
5. Click on the Finish button to finish image managing.

Copyright 1995-2014 Newera Software Technology Inc. All Rights Reserved