Export pages as
PDFCool Studio allows the user to export the whole or portions of the pages of a PDF document as a new PDF document or images.
1. Open the Export dialog
From the top menubar, go to "Page > Export Pages as";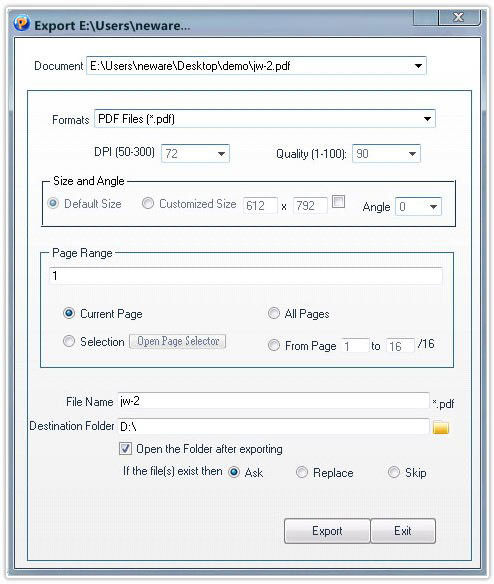 2. Choose a PDF document
Click on the dropdown list of the Document, and choose one from the PDF documents opened in program;
3. Choose an exporting format
Click the dropdown list, and choose the format you want to export as, such as, JPEG, TIFF, PNG, GIF, BMP, WMF, EMF etc;

4. Set the image parameter
If choosing PDF as the export format, you do not need to modify all the parameters; if choosing to export as different image formats, the relevant parameters are available;

6. Output setting
Choosing exporting path by click on the

button, or enter the ouput path directly;
7. Click on the Export button to finish.

Copyright 1995-2014 Newera Software Technology Inc. All Rights Reserved